Travel
How to Reach the Venue
Venue: Hong Kong Ocean Park Marriott Hotel (香港海洋公园万豪酒店)
Address: 180 Wong Chuk Hang Road, Aberdeen, Hong Kong SAR (香港特别行政区黄竹坑道180号 ,寿山村道)
Tel: +852 3555 1688

Taking a Local Taxi
Simply go to the taxi stand and ask for Hong Kong Ocean Park Marriott Hotel. Print the above bilingual hotel address with you and show it to the taxi driver. Provided below are the approximate distances, times and fees from the main transport centers to the conference venue. Time and fees are only for reference and will depend on the traffic situation.
| | | |
| --- | --- | --- |
| Airports | Distance | Estimated Time and Fees |
| Hong Kong International Airport(HKG) | 45.3km | About 45 Mins; 180HK$ |

Taking the Subway
The Ocean Park Station, located on South Island Line, is the closest subway stop to the conference venue. The Hong Kong Subway map can be a reference: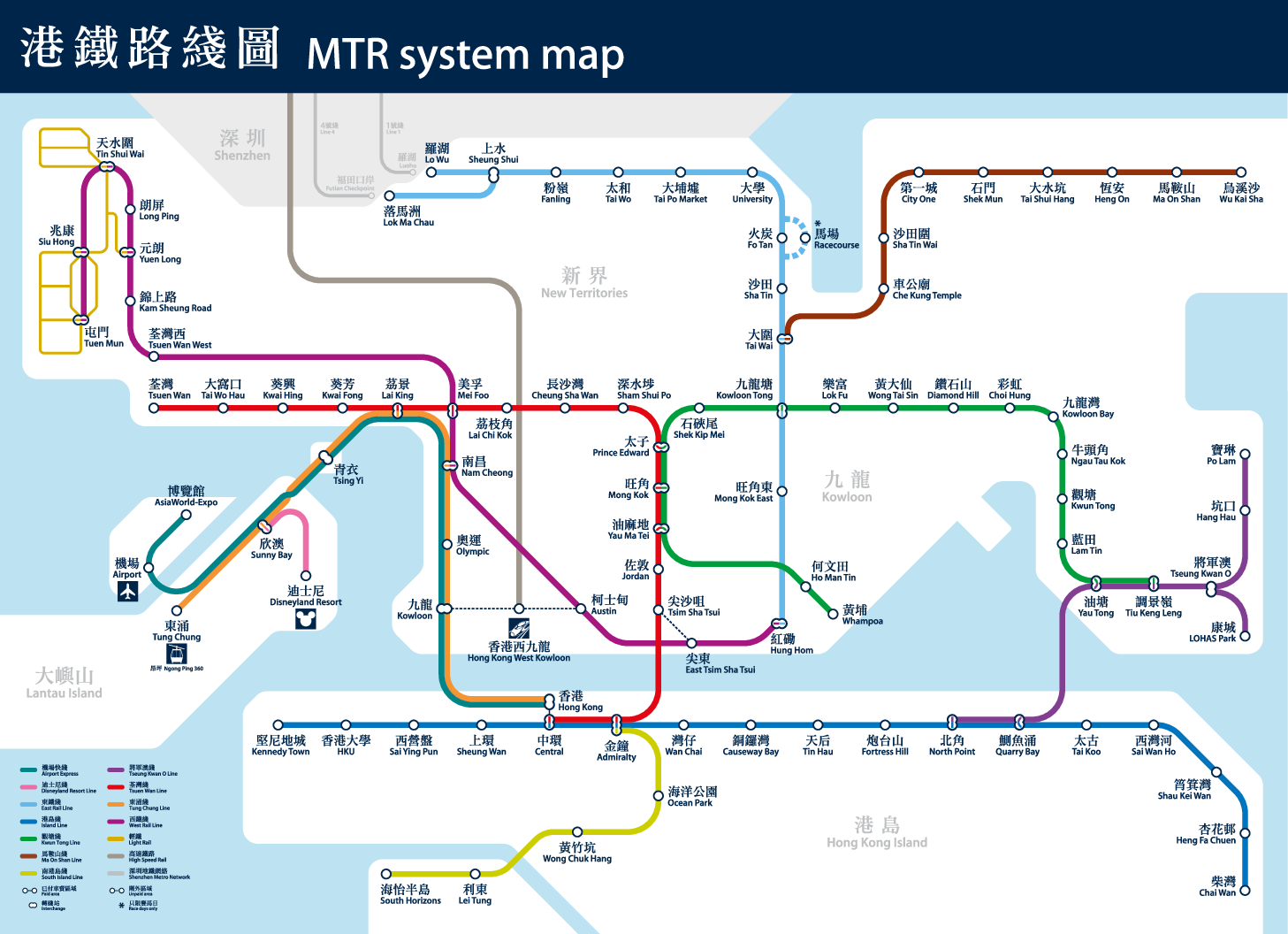 Picture from www.mtr.com.hk
Overview
As a Special Administrative Region of China, Hong Kong is situated on the southeast coast of China, occupying an area of 426 square miles (1,104 square kilometers). The city is one of the world's leading financial, banking and trading centers.
It is made up of four parts: Hong Kong Island, Kowloon Peninsula, the New Territories and the Outlying Islands. The prosperous island is the center of economy, politics, entertainment and shopping with its southern part noted for sea shores and bays. Kowloon is another flourishing part where Tsim Sha Tsui, Yau Ma Tei and Mong Kok are the most popular destinations. The New Territories and Outlying Islands are ideal places to experience a peaceful and natural holiday.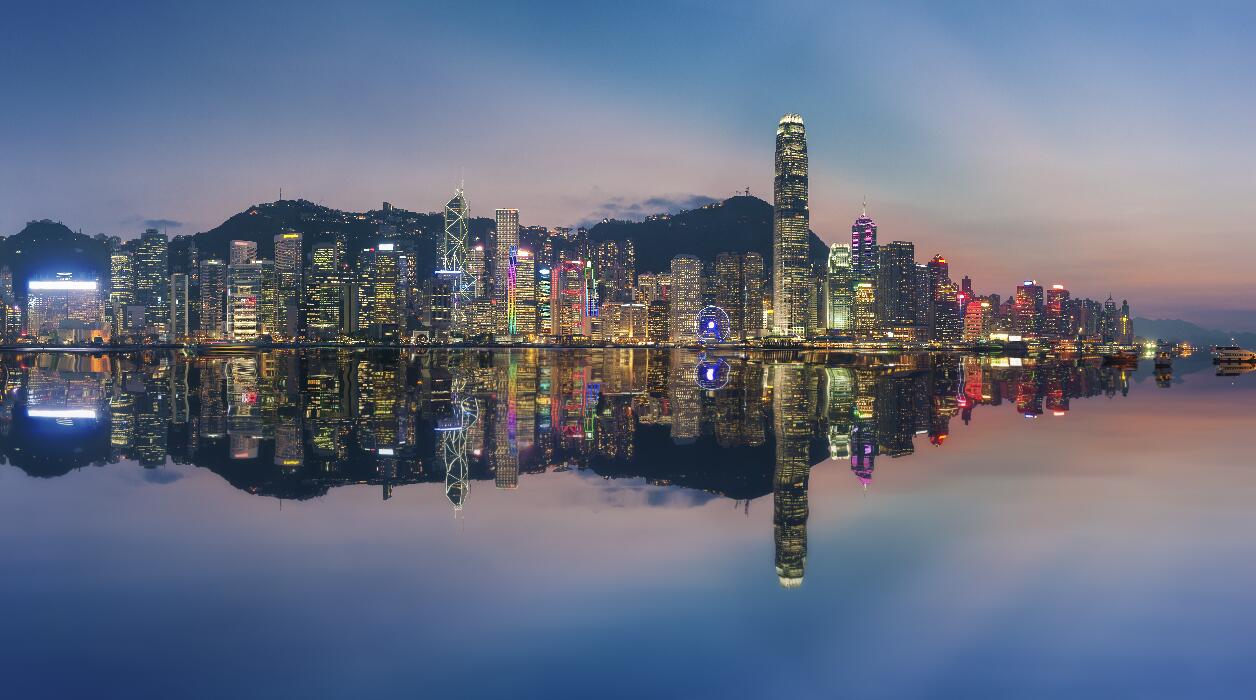 Visas
Nationals of about 170 countries and territories may visit Hong Kong visa-free for a period ranging from 7 days to 180 days.
For more information regarding visas, please visit https://www.immd.gov.hk/eng/services/visas/visit-transit/visit-visa-entry-permit.html.
Transportation
MTR: The city's Mass Transit Railway (MTR) is modern, fast and easy-to-use. It is safe to say that railroads are the backbone of the whole transportation network in this area. The city's MTR network now run 10 subway lines, 1 airport express line, 1 light rail system with 12 routes and 1 tourist cable car system Ngong Ping 360.
City-bus: Most buses in the city are double-decker and some are air-conditioned. The buses serve HK Island, Kowloon, New Territory and some parts of Lantau with a cheap fare. However, it is advised to get to know the route map first if visitors have no idea of their streets. One big offer for bus passengers is the great scenery outside the window.
Taxi: There are more than 18,000 taxies serving the public in Hong Kong. They are in three colors and serve designated areas: red cabs (urban cabs) cover most destinations within the city except Tung Chung Road and roads in south Lantau Island; green ones (New Territories cabs) operate in the north-eastern part (i.e. north of Sha Tin) and north-western part (i.e. north of Tsuen Wan) of the New Territories; blue ones (Lantau cabs) serve on Lantau Island and Chek Lap Kok. All cabs can reach HKIA and Disneyland Resort.
For more information regarding transportation, please visit https://www.travelchinaguide.com/cityguides/hongkong/transportation/.
Currency (Exchange Rates: US Dollar; GB Pound; Euro)
The Hong Kong dollar
The legal tender in Hong Kong is the Hong Kong dollar (HKD), with 7.80 HKD equivalent to 1 USD, although exchange rates may fluctuate slightly.
Changing money
You can exchange your currency for Hong Kong dollars at any authorised money exchanger. For extra peace of mind, look for a money exchanger that is accredited by the Quality Tourism Services (QTS) Scheme. At Hong Kong International Airport, currency exchange counters are open from early morning until late at night and many located within the city stay open into the evening. ATMs are widespread and operate 24 hours. Exchange rates fluctuate daily depending on currency markets.
Traveller's cheques and credit cards
Traveller's cheques are accepted by most leading banks and hotels. International credit cards such as American Express, VISA, Diners Club and MasterCard are also welcome at many hotels, retail shops and restaurants. Such premises usually display stickers showing the credit cards they accept at their entrances.
ATM
ATMs can be found almost everywhere. Many take international cards and some HSBC 'Electronic Money' machines provide 24-hour cash withdrawal (HK$) facilities for Visa and MasterCard holders.
For more information regarding currency, please visit http://www.discoverhongkong.com/eng/plan-your-trip/traveller-info/good-to-know/money.jsp
Weather
Subtropical Hong Kong has four distinguishable seasons - warm and humid spring, hot and rainy summer, pleasant and sunny autumn, cool and dry winter. Belonging to oceanic subtropical monsoon climate, the city has an average annual temperature of 23°C (73°F). From May to November, it may be attacked by tropical cyclones of various strengths and occasional squally thunderstorms. The typhoon season is possible in September. In November, the average temperature in Hong Kong is around 19°C~24°C.