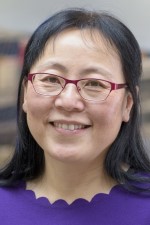 Xin Lu
Ludwig Institute for Cancer Research, Nuffield Department of Medicine, University of Oxford, UK
Xin Lu is Director of the Ludwig Institute for Cancer Research and Professor of Cancer Biology at the University of Oxford, UK. She is a leading cancer cell biologist with long-standing research interests in tumour suppression. She was one of the first researchers to show that the tumour suppressor p53 responds to both oncogene activation and DNA damaging signals and her group was also among the first to demonstrate how to selectively activate p53 to kill cancer cells, through identification and characterization of the evolutionarily conserved ASPP family of proteins. Her laboratory has broad interests in the molecular mechanisms that control cellular plasticity, including how external signals - such as infection - are integrated into the nucleus to achieve target-selective transcription and cell fate determination.
Xin Lu is also Co-Director of the Cancer Research UK Oxford Centre, Cancer Theme Leader for Oxford Biomedical Research Centre, an elected member of EMBO and a Fellow of the Academy of Medical Sciences. She has a BSc from Sichuan University, MSc from Peking Union Medical College, Chinese Academy of Medical Sciences in China, PhD from University College London (UCL) and the former Imperial Cancer Research Fund, and postdoctoral training at Dundee University, UK. She was appointed as the Director of Ludwig Institute in London at UCL in 2004 and she established Ludwig Oxford as Director in 2007.